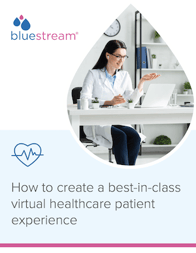 Virtual healthcare should solve many of today's care challenges-but does it?
Creating the best care experience for patients is one of the primary goals in healthcare today. Virtual care is a critical part of this experience.
When virtual care works the way it's supposed to, it can improve access to care, reduce readmission rates, and shorten hospital stays.
The problem is that for many, the virtual care experience is not good enough or not even accessible.
If you are looking for new ideas to improve the virtual care experience, this white paper will help you. In this white paper, we'll cover:
Why many patients can't access virtual care
What a best-in-class virtual care experience looks like
The 6 Steps to implement a best-in-class virtual care experience
Examples of organizations like yours who are on the cutting edge of virtual care
Download this white paper today!