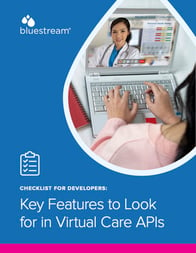 Are you a digital health developer looking to upgrade your platform with virtual care?
Are you a technology developer for a healthcare organization, looking for ways to improve how you deliver virtual care services?
This checklist will help you develop the right set of requirements for best-in-class virtual care APIs.
In this checklist, we'll cover the importance of features such as:
High-quality calling
HIPAA compliance
Real-time reporting
Interpretation services
24/7 customer support
And more!
Need help choosing the virtual care APIs that are right for your organization? Fill out the form to download the "Key Features to Look for in a Virtual Care APIs" checklist.